Inspiring Writing
The Choice that Changed Her Life  – Dana's Debut Book & Amazon Kindle Best Seller!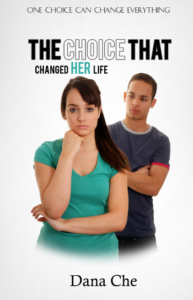 Synopsis: Sadie Walker, vibrant, beautiful and well-loved Southside High School's Homecoming Queen has found true love in MVP basketball player Brian Dickens. The fact that that she's white and he's black makes them no difference-if only it were that simple for those closest to them.
When Sadie receives the unexpected news that she's pregnant, their love is tested to the breaking point and she's forced to make the hardest decision any woman could ever make. Just when she thinks she has it all figured out, she stumbles upon a secret Brian never intended for her to uncover. Betrayed and confused, she makes a tragic and deadly choice she'll live to regret forever, leaving the picturesque town of Spring Beach in shock. Will Sadie finally find peace and healing from her mistakes or will it all end with The Choice That Changed Her Life?