What Your Name Says About Your Personality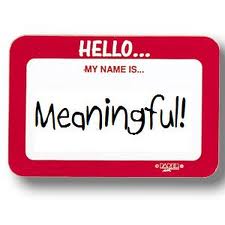 Have you ever looked at someone and thought their name matched their personality or appearance?  I believe the meaning of your name says something about you and I often wonder what your name says about your personality. Today, I was researching the meaning of my, my husband and my kids' names. I am on a quest to be more intentional about calling my family who they really are . . . seeing beyond their present actions and into who God created them to be.
Several years ago, when we were still dating, my husband had a beautiful photo of my name and its characteristics atop a beautiful background of a purple unicorn (one of my favorite things) framed for me. It was one of the sweetest gifts I've received. Unfortunately, the only meaning for Dana that was listed was "from Denmark." Not too deep. Not that encouraging either.
Your Name Will Often Match Your Personality
So I began researching my name and its deeper meaning. Listen to this. In Arabic, Dana means "the most perfectly sized, valuable and beautiful pearl".  In Hebrew, it means "arbiter" or "God is my judge". I was awed when I read those definitions! First off, I was born in June and my birthstone is pearl! I looked at the other characteristics . . . perfectly sized (why do I stress about these 15 pounds I need to lose?!), valuable and beautiful. I believe this is what God says about me.
The Hebrew meaning makes just as much sense, and everyone who knows me well knows I am a "black or white person." There is little gray with me. Either something is wrong or it's right. An arbiter is a person with power to decide a dispute; a judge, or a person or agency whose judgment or opinion is considered authoritative.
Is that cool or what?! My name definitely says something about my personality!
What My Family's Names Say About Their Personalities
As I began looking at my family's names, I noticed that my husband and kids all live up to their name meanings. My husband's name means "God is gracious." My husband is very gracious and has been shown lots of grace. Mercy is one of his primary gifts.
My oldest son Christopher's name means "Christ-bearer"  of "He who holds Christ in his heart." Wow! I have to remind him, especially during these somewhat difficult teen years that he bears the name of Jesus. He is not his own!
I looked the other kids's names too, but for brevity in this post, I won't expound on those. My challenge to you is to research your name's meaning and what your name says about your personality.  You might just realize that what you find is more insightful than you ever imagined!