Freedom from What?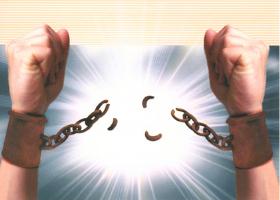 It's only March, and already "freedom" is quickly becoming one of the most overused words of the year. Freedom from what? I want to ask everyone who posts the word on Facebook. Now, don't get me wrong, I'm all about freedom! I've declared it for myself, my family, my business and others many a time over these last few months  . . . on Facebook even! But sometimes I wonder if we get caught up in the catchphrase that we fail to really focus on the process of freedom.
In order to get free, you must first recognize you are bound. This isn't a pessimistic or defeatist point of view. It's acknowledging where you are . . . for now. If you want freedom from what has bound you, it must start here.
Freedom from Sugar
To be honest, we are all bound by something. This year, I decided I was no longer going to fight weight issues. I've been on this roller coaster with these 15 stubborn pounds for far too long! Now, most people look at me and comment that I don't need to lose any weight or that I'm already small enough, but the point is that I want to lose weight. I recognize I've been bound by the great temptress himself . . . Mr. Sugar.
Mr. Sugar calls me late at night to come and spend time with him, even nights when my husband is home! He likes to offer me variety and spontaneity (cheesecake, ice cream, cookies, candy, you name it) so I won't get bored. When I'm stressed out, he offers me a Hug (the raspberry Valentine's edition was excellent!). When I'm lonely, he'll offer to be my Peeps (even though I don't particularly care for marshmallow candy). When I'm down, he'll offer a Laffy Taffy, and when I'm strong and am eating healthy, he'll offer me carrot cake!
I realized Mr. Sugar controlled too much of my life. I was bound! It was time to get free. I'm pleased to announce that I've been doing very well. I consistently say no to Mr. Sugar, and when I do indulge just a bit, my stomach fights back. Sigh . . . things just aren't the same. But that's a good thing, right?
Freedom from Past Mistakes
Maybe you don't have a sugar problem. Maybe your problem is letting go of your past mistakes. In order to get the freedom from what lurks in your past, you have to own it. Admit it. Don't hide it. After you've done that, it's time to lay it down. Forgive yourself, forgive whoever else needs to be forgiven, bury that thing and move on!

Freedom from What Other People Think
Ah, this one's a killer! How often do we pretend that we don't care what people think about us when in all actuality, we can't stop thinking about what people think about us! I struggled with this for years. It wasn't until I realized that people are going to talk regardless of what you do that I experienced the freedom from what other people thought of me.
So whether you're looking for freedom from sugar, freedom from past mistakes, freedom from what other people think or freedom from something totally different, you can be free. You can walk away from it. All it takes is a decision of faith, a supportive person or people who will help keep you accountable and a vision of a better future for your life.
You can experience freedom from whatever is holding you back! You can be choose instead to be bound to freedom. I believe it. Like this post? Hit that share button right below and always, your comments are welcome!