ACHI Magazine Awards Nominee Dana Che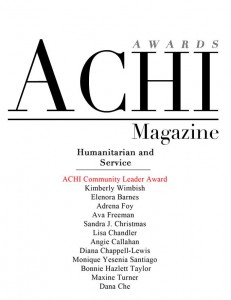 When I heard that I had been nominated for the ACHI Magazine Awards, I was quite surprised and thrilled! What an honor. It's always a blessing to be recognized for the work you do, but to recognized on such a large scale is very humbling and helps motivate me to keep pushing . . . to keep showing others that when you step out in faith and pursue your dreams, anything is possible.
I Am an ACHI Magazine Awards Community Leader
I was nominated as a Community Leader under the category of Humanitarian and Service. Now, to be quite honest, I thought, Am I really a humanitarian? When I think of the word humanitarian, I think Angelina Jolie or Oprah or someone with superhero powers. But then I looked up the word, and here's how Dictionary.com describes a humanitarian:
having

 

concern

 

for

 

or

 

helping

 

to

 

improve

 

the

 

welfare

 

and

 happiness 

of

 

people

pertaining

 

to

 

the

 

saving

 

of human

 

lives

 

or

 

to

 

the

 

alleviation

 

of

 

suffering

a

 

person

 

actively

 

engaged

 

in

 

promoting

 human 

welfare

 

and

 

social

 

reforms,

 

as

 

a

 

philanthropist
When put like that, I am a humanitarian! Make room, Angelina!
As an inspirational youth speaker , I sincerely seek to help to improve the welfare and happiness of young people, helping them to realize all the potential the lies within them. I want so desperately for young women to see they are more than their bust or butt size or being used as someone's sexual fantasy. And I want young men to realize they don't have to look like, dress like or talk like music stars they see on MTV!
But that's my soapbox, and I'd better get off of it, because I don't have room in this post to get into all that!
So for the person or people who nominated me for the ACHI Magazine Awards, I appreciate you from the bottom of my heart! Thank you for believing in me. Thank you for helping me to see that my light shines brighter and reaches farther than I realize sometimes. It's such a blessing to be able to inspire others by simply living my life.
Click here to to find out more information on ACHI and the other phenomenal women nominated for this prestigious award.
ACHI Magazine Awards Nominees Luncheon