100 Reasons to Give Thanks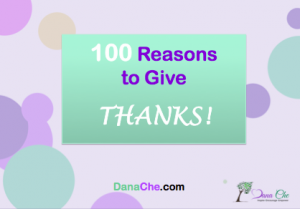 Here in the U.S., the Thanksgiving holiday is just days away. Of all the holidays, Thanksgiving is my fave! Not only because of all the yummy food and quality family time, but because it's a day where the focus isn't on gifts or candy. I've said before, however, that every day should be thanksgiving. As a matter of fact, I even started a gratitude log on my site earlier this year for the sole purpose of logging the things I'm grateful for and giving others a place where they could share what they're grateful for. Sadly, I've received more comments about how to make money online on my YouTube channel than I have on this gratitude log.
Interestingly, though it seems like an oxymoron, giving thanks is the best anecdote to stress or lack. When you take the focus off of all of your "aren'ts" and "nots," you are able to appreciate what you do have and position yourself for more.
My faith is being tested something crazy right now. As you know, we have a large family: 4 natural kids, 1 international "daughter," & a dog who has had to have surgery 3 times in the last month! My husband works very hard to provide for our family, but right now, things are tight. Really tight. Real, real tight. Did I mention things are tiggidy-tight?! I can look at our bank account and pop a Xanax, or I can pull out my Sword and fight. I choose the latter. Focusing on the promises of God is the ONLY thing that keeps me in peace. I honestly do not know how those without a Living Hope make it . . .
So to slap the devil in the face for thinking he was going to stress me out with these problems and to give God the praise He's most worthy of, I have compiled a list of 100 reasons to give thanks. This is my list, but please do, write your own! And then share today's tweetable below.
Today's Tweetable:  Tweet: Gratitude is the cure to stress, worry & lack. Being thankful for what you already have positions you to receive more.@dana_che #givethanks
100 Reasons I'm Thankful
1. I am alive.
2. I have a relationship with Jesus.
3. I'm not going to hell.
4. I have an awesome family.
5. I have a husband who loves me.
6. Chris
6. Cayla
7. Corey
8. Collin
9. Miglija- our international daughter
10. My mom introducing me to the the LORD
11. My mom being an involved, loving grandmother
12. My mom for not killing me during my rebellious teen years!
13. I overcame a spirit of fear.
14. God healed my marriage.
15. I actually did make money online
16.  I have an online presence to inspire, encourage and empower others
17. My leadership gift
18. My hairstylist
19. My dentist
20. Makeup . . . bless the Lord!
21. The influence God's allowed me to have
22. The fact God chooses me to partner with Him . . . yep, it still amazes me!
23. I can read
24. I can write
25. Even in my lack, I'm still richer than 98% of the world (and you are too if you live in the U.S.)
26. My Sword. I use it every day!
27. An intimate, conversational prayer life
28. My health!
29. My kids' school where they're taught godly principles
30. My kids' friends who are good influences . . . for the most part
31. Laughter!
32. Peace in my heart
33. Joy in my spirit
34. My laugh lines. I will never Botox them away!
35. Nick Vujicic. Hands down, the MOST inspiring person I've yet to meet.
36. My life group
37. My amazing, multicultural church
38. My cell phone
39. Wisdom, understanding and revelation of the Word of God
40. YouTube- where I learned how to do my backsplash, tile my floors, build a website and cook healthy food
41. Social media that keeps us all connected
42. Grace and mercy
43. The food I ate this morning
44. The rain patting against my rooftop at this moment
45. Our cars in the driveway
46. The food in our pantry
47. Lysol
48. The gift to speak and empower others
49. The gift to write and inspire others
50. My DVR- what would I do without it recording the one show I watch on TV?!
51. Shark Tank- It's made me a better entrepreneur
52. Our daily morning prayer calls with kingdom-minded entrepreneurs
53. Health insurance
54. Clean water
55. Deer Park bottled water when I don't think our water is clean enough
56. A sense of humor!
57. My past churches
58. Being taught to respect authority
59. Sweet memories
60. Living so close to the ocean
61. My home- it truly is a gift from God
62. My in-laws (Their placement on this list is not indicative of their importance to me! I just didn't want to have to renumber!)
63. Income opportunities
64. My teachers
65. My mentors
66. My pastors
67. My ability and love of dancing
68. Blinds on my windows so my neighbors don't have to watch me dance!
69. My cheerleaders who underscore so many valuable life lessons
70. Great books
71. Selfless people
72. Target- I love you Target!
73. Weekends
74. Mondays when the kids go back to school
75. My super-comfy bed
76. Indoor plumbing
77. My clothes
78. My shoes
79. Family time
80. The privilege of being a blessing to others
81. My blog that has encouraged many
82. Shellac nail polish
83. My grandmothers who are still alive and well!
84. Longevity in my family
85. Youthful genes!
86. God's correction
87. God's direction and guidance
88. That I am loved by God no matter what!
89. God's protection
90. The Holy Spirit that teaches, comforts and empowers me
91. New beginnings
92. 2nd and 35,000-umpteenth chances
93. My nose- I think it's cute
94. Never taking myself too seriously
95. My neighborhood
96. My neighbors
97. New ideas
98. How God made me
99. God's faithfulness
100. Living a fulfilling life
Whew! I made it! Did you actually read all 100? Good for you! Now, how about you make a list of 100 reasons to give thanks yourself? There's no way you can stay negative with a list like this!
Much Love and Many Thanks!
~Dana